Our Services
Patents (Utility Models)
Domestic Patent Applications
We will help in acquiring a patented right in Japan. Our staff of technical experts in fields of chemistry, materials, biotechnology, fibers, medicine, machines, electrics, electronics, communication, semiconductors, IT, food products, daily necessities, household items, and business models will correspond according to the technical field of the case concerned.

The technical staff members of our Office have majored in electrics, machines, chemistry, etc. of engineering departments at universities and graduate schools, and a large number of such have gained experience at research institutes of major manufacturers of electronics, machinery, and materials.
In order to surely acquire rights for your precious ideas, our technical staff, having rich technical experience as well as experience working with patents, will not only prepare proposals and advice for the preparation of application strategies and patent specifications, but will help in handling transfers and license agreements.
。
Procedures for Acquiring Patented Rights
Refer to Examination Guidelines of the Patent Office for details on examination guidelines.
Requesting Accelerated Examination
Overseas clients can utilize Patent Prosecution Highway (PPH). Compared to a normal examination or trial, the results of an examination or the results of a trial can be obtained much earlier with accelerated examination (see the tables below). The number of times of office actions is reduced, leading to the cost reduction and the improvement of grant rate.

Examination and trial periods for a normal patent (average)
| | | | |
| --- | --- | --- | --- |
| | 2013 | 2014 | 2015 |
| Examination | 14.1 months  | 9.6 months | 9.5 months |
| Examination Rejection Appeal Trials | 12.6 months | 12.4 months | 12.5 months |
(From the Patent Office Annual Report)
Examination and trial periods in cases when accelerated examination / accelerated trial is requested (average)
| | | | |
| --- | --- | --- | --- |
| | 2013 | 2014 | 2015 |
| Examination | 1.9 months  | 2.1 months  | 2.3 months  |
| Examination Rejection Appeal Trials | 3.3 months  | 3.1 months  | 3.6 months  |
(From the Patent Office Annual Report)
There are three kinds of PPH.
(1) Normal Accelerated Examination
One of the requirements is Overseas Related Application, which can be applied for overseas client. In filing the application, the disclosure of prior art documents and comparative explanation are needed.


(2) Highway Accelerated Examination (PPH)
Highway Accelerated Examination is only applied to countries participating in the PPH, and the granted patent is needed.


(3) PCT-Patent Prosecution Highway (PCT-PPH)
PCT-Patent Prosecution Highway is only applied to countries participating in the PCT-PPH. The application needs to be recognized to be patentable in International Preliminary Examination Report.

Please visit the Patent Office Website for further details.
Overseas Patent Applications
We will help in acquiring patented rights in countries throughout the world.

Our Office maintains close relationships with excellent local agents (patent attorneys) and has multiple channels to quickly and accurately perform procedures. Also, as there are a great number of foreign staff members at our Office, communication can be made not only in English but in a variety of languages, enabling further detailed correspondence.

There are the three following types of overseas applications.


(1) Direct Application
This method involves filing an application directly with the patent office of a country in which one wishes to acquire a right. For example, in the case where an invention is created in Japan but the inventor wishes to acquire a patented right only in the United States, a direct application would be filed in the United States.

However, as this method requires the use of languages specified by each country, and as there is the need to follow the procedures of each country, there is the disadvantage of greater burdens in the preparing of documents and the costs of translations, etc.


(2) Application based on Priority of Paris Convention
Within 12 months from the date of application in the first country, on the basis of the application filed in the first country, priority based on the Paris Convention can be claimed for an application overseas.

When priority based on the Paris Convention is claimed, decisions regarding novelty and the inventive step, etc. are made based on the date of application in the first country, thus preventing losses that could occur, even when the invention is publicized after the application in the first country and before the application in the second country.


(3) PCT Application
With this method, after filing an international application, the examination procedure of each country is received upon transfer to the required country.

As this method has the same effect as filing an application in multiple countries with a single application, it is effective in cases when one wishes to acquire a patent in a large number of countries.
This method allows priority based on the Paris Convention to be claimed.

If you are considering an application overseas, feel free to consult with us.
Our consultation services and estimates are provided free of charge.

Registration of Utility Models
We will help in acquiring rights for utility models, trademarks, and designs. In Japan, as utility models are registered without being examined, besides its primary value as an exclusive right, there are additional values in being capable of being utilized strategically for the obtaining of a right at an early stage, for protective application, and for promoting sales, etc.
Procedures for Acquiring Rights for a Utility Model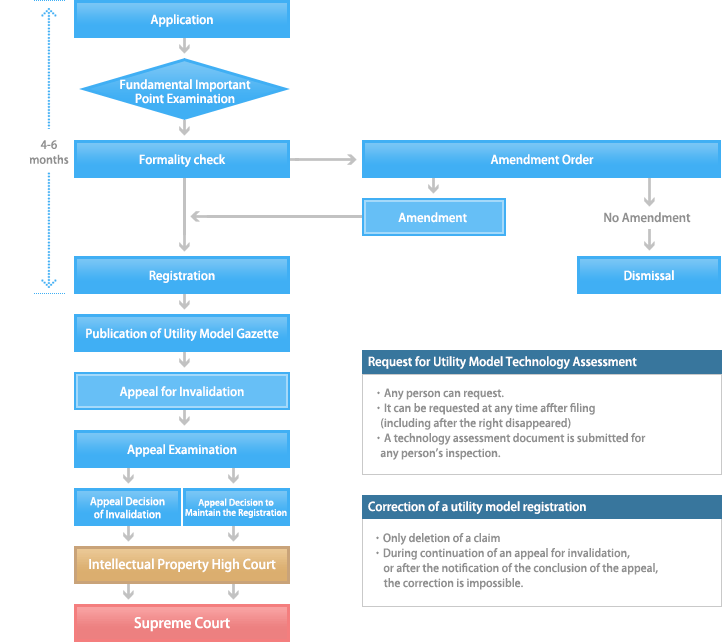 Registration of Trademarks
For names of goods and services, a trademark right can be acquired by filing an application to register a trademark by specifying a category for the goods or services, and as long as the name is used in business, exclusive use will be enabled semi-permanently. The trademark will gain credibility, and will eventually lead to the trademark itself having a proprietary nature.
Procedures for Acquiring a Trademark
Registration of Designs
For products that are characterized by their exterior appearance, or "visible" ideas (cases where technological characteristics appear in actions and operations, etc. that can be observed from the outside), it is important to consider acquiring a right for the design thereof.
Procedures for Acquiring a Design Right
Patent Translation
We will provide translations of English, Chinese, Korean, French, German, and Spanish from or to Japanese.
The translations we provide maintain an extremely high degree of quality by being instructed and reviewed by patent attorneys and technical experts, and further being double-checked by natives.

From specifications to intermediary documents and prior art documents, we provide translations for all sorts of documents related to patents of any technical field.
Disputes
We will handle the issuing or receipt of warnings to or from others that are infringing your patented rights, request or receive judgment for cancellation of nullification, and file cases for cancellation of trial decisions. Regarding damage compensation suits, we will support our clients with the cooperation of our affiliated lawyers.
Search and Appraisal
In regard to both overseas and domestic patents, utility models, trademarks and designs, we will search patented rights that one's developed product may possibly infringe, extract prior art documents that will nullify the patents of rivals, and appraise the acquisition of patents and patent infringements.
Application for Registration of Copyright
We will handle the registration of copyrights to the Japanese Agency for Cultural Affairs.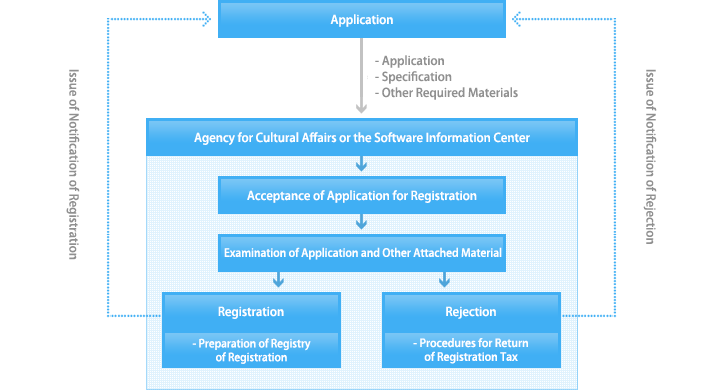 Domain Registration
We will register and manage renewal of ".jp" domains for overseas clients.
The ".jp" domain is relatively new, and is considered to be more reliable than domains such as ".com" and ".net" which are often used in spamming. The domain will need to be renewed every year.