About us
Greetings
Yoshikawa International Patent Office was established in 1988 by Head Patent Attorney, Toshio Yoshikawa in Kyobashi, Osaka.

Since establishment, we have been providing detailed services to suit the needs of every customer ranging from some of the country's largest corporations to medium- and small-sized companies, major universities, and even individual clients.

The Head Patent Attorney's consciousness for internationalization has been strong since day one, and he has made every possible effort in striving from an early stage to nurture staff from all over the world.
By forming a broad and solid network with patent offices throughout the world, needless to say domestically, we support the acquiring of intellectual property rights overseas as well.

Our services include applications and registrations for the intellectual property rights of patents, utility models, trademarks, and designs, management after acquiring the rights, and we have also been providing advice to clients to make the best use of their protected right. The quality we deliver for a reasonable price has led to the satisfaction of our great number of clients.

Regarding technological fields, the cases we handle are centered on chemistry, the expertise of Head Patent Attorney Yoshikawa, and biotechnology, the expertise of Patent Attorney Kanna Ichikawa, and our strengths cover the biotechnological field relating to iPS cells which has been gathering attention in recent years.

Efforts have also been made for a complete technical department, and besides chemistry and biotechnology, experts of various fields such as mechanics, electrics, communication, medicine, biology, semiconductors, physics, information processing, architecture, automobiles, metal materials, and foods are available to handle the cases of every client.

Also, our international department boasts a great number of staff native to European and Asian countries which enables correspondence in multiple languages. Prompt and smooth communication with overseas clients has been realized and has led to us being highly evaluated.

Along with the increase in domestic clients filing overseas and overseas clients filing applications in Japan, we have exerted to expand our translation department. Being able to provide high quality translations produced by a team of technical experts, translators, and proofreaders working together as one is also a great strength of Yoshikawa International Patent Office.

Recently, as a solution to the persisting issue of the time difference between Japan and countries of North America, in 2012 we have established a liaison office in San Francisco, United States. Furthermore, in accordance with the increase in the number of our staff and the number of cases being managed, in 2013 we have moved our Osaka Office to our new location where our duties are currently being performed.

To further develop the longing of the Head Patent Attorney, Toshio Yoshikawa to construct a global and secure office, our entire staff strives daily with duties.

High Quality Service for a Reasonable Price
At our Office, as our handling fees are set at fixed rates for each service, we will provide satisfactory service for ensured prices. Upon request, we will also provide you with a free estimate prior to handling your case.
Overseas Applications through the Utilization of our Global Network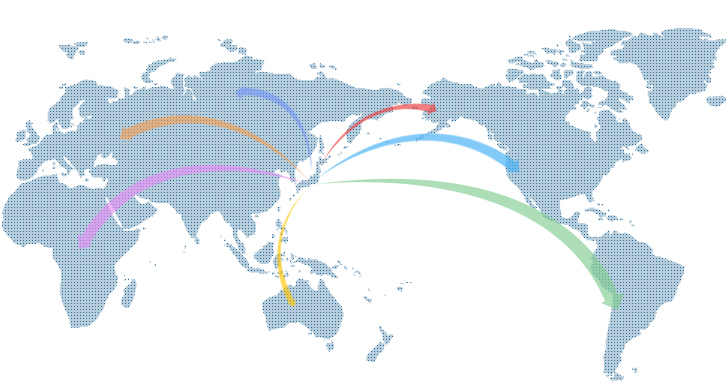 Acquiring an intellectual property right overseas will provide an advantage in guiding your corporate competition in an international society.
At our office, we are here to support the overseas applications of our clients for a low price through the utilization of our broad network covering the United States, Europe, and various countries in Asia.

Additionally, even with translation fees that becomes necessary in an overseas application of a patent or utility model, our exclusive technical translation staff adept in technologies and languages will provide accurate translations for a low price.
The Story behind Our Logo
A story of owls…

Owls, said to be the attendants of Athena, the Greek goddess of wisdom and skills, are also known as the symbol for academics, liberal arts, wisdom, and sages.

With the ability to see in darkness along with exceptional hearing, owls are also known as "forest sages" and "forest watchmen" that do not overlook small items or miss information, and have bright prospects.

In association with the owl likened to such symbol, to serve as a "watchman of intellectual property" in protecting the intellectual property of our clients, Yoshikawa International Patent Office, while incorporating the motif of an owl in the logo, will continue efforts with duties every day.
Access
Yoshikawa International Patent Office
Tel:+81 6 6356 8885
Fax:+81 6 6356 8883
e-mail:yoshikawa@e-patent.jp
Osaka Kyobashi Building 4F, 1-20-5, Higashinoda-cho, Miyakojima-ku, Osaka 534-0024 JAPAN
Liaison Office in San Francisco (US)
Tel:+1-415-674-1715
Fax:+1-415-674-8181
e-mail:yoshikawa@e-patent.jp
1680 Post St. Ste D2 San Francisco CA 94115-3624 UNITED STATES